Who are the people behind the Grandmother Project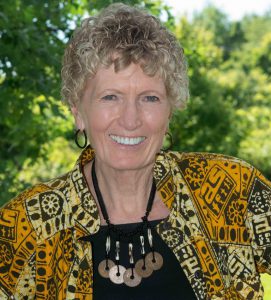 Judi Aubel, Executive Director
Judi has 20 years of experience working with community health, education and child protection programs primarily in Africa but also in Latin America, Asia and the Pacific. Her training is in anthropology, public health and adult education. Her interest and expertise is in development of community programs that build on socio-cultural roles and realities and that empower communities to promote their own well-being. Judi has received several awards for her innovative work:
Thomson Reuters Trust Women Award -2012
Ashoka fellow -2015
BBC Inspirational & Influential Women Award –2016
Global Thinkers Forum Award  for Positive Change -2017

Community Development Workers:
Oumou Diop, Fatou Diamanka, Oulèye Aw, Mariama Kandé, Ndéye Rama Baldé
Board & Staff
GMP US Board of Directors
President:  Mark McEuen, Dexis Consulting Group, Washington, D.C.
Secretary:  Lillian Baer, Retired Director of ACI (Dakar, Senegal), Seattle, Washington
Judi Aubel, Executive Director, GMP, Rome, Italy and Mbour, Senegal
Gwen Young, Managing Director at Global Emergency Response Coalition, Arlington, Virginia
Lynsey Farrell, Senior Lecturer in International Studies, Lauder Institute, Africa Program,
University of Pennsylvania, Philadelphia
Lisa Schreiber, SVP NonAgency Lending, NewRez LLC, Washington D.C.
Amy Pojunas, Ingredion Incorporated,  Westchester IL.
Drew Boshell, Executive Director FINCA, CANADA
Jennifer Hanks-Allaire,  President, Allaire Foundation, USA
Board of Advisors:
Carolyn Long, Retired Former Vice President of InterAction, Washington, DC
Banda Ndiaye; Deputy Director for Africa, Nutrition International, Nairobi, Kenya
GMP Senegal Board of Directors
Judi Aubel, Executive Director
Babacar Robert Cissé, Doctor. Mbour, Senegal
Banda Ndiaye; Deputy Regional Director for Africa at Nutrition International. Dakar, Senegal
Malang Sagna, School Director. Velingara, Senegal
Ibrahima Bob, Centre PanAfricain pour le Genre, la Paix et le Développement. Dakar, Senegal
Hamidou Soukouna, Education sector specialist. Dakar, Senegal
Angèle Mane, Gender Advisor, District Education Office. Senegal
Khadydiatou Diallo, Sociologist. Thiès, Senegal
Consultants and volunteers:
| | |
| --- | --- |
| | Alyssa Rychtarik, part-time Program Development Advisor. Barcelona, Spain |
| | Francesca D'Asaro Biondo, part-time Communication Advisor, Rome Italy |
Alice Orecchio, Social Media Coordinator. Rome, Italy
Domiziana Ferrari, Graphic Design and Social Media Consultant. Rome, Italy
Tiziana Mattioni, Graphic Designer. Rome, Italy
Francesca Lulli, Anthropologist, Research Consultant. Rome, Italy
Larry Anderson, Legal Advisor. Lindale, Texas
Jitendra Joshi, Webmaster. Jodhpur, Rajasthan, India
Angele Manè, Gender Specialist. Velingara, Senegal
Hamidou Soukama, Senior Education Advisor. Dakar, Senegal
Khadydiatou Diallo, Sociologist. Thiès, Senegal
Mamadou Diaw, Technical Advisor. Dakar, Senegal
Anneke Newman, Anthropologist. Antwerp, Belgium
Volunteer translators
Sarah Brokshaw, Andrew Ceacatura, Eoin Downey, Vicky Dupont, Annie Kelleher, Ima Hicks, Suzy East, Ellise Johnson, Michele Genuard, Jessica Inman, Anisha Mangtani, Naina Mangtani, Kevin Marceau, Audra L.  Merfeld-Langston, Bonnie Miller, Gill Navdeep Kaur, Noelle Palmer, Er Min Peck, Caroline Vaczy, William Young.